Tri-Church Notice Board


Tri-Church Announcements


The Tri-Church Cinder Ministry
invites new immigrants, international students,
and all people living in the community, once a week to English speaking fellowship,
Bible Study, discussion, music or sporting events
every Friday at 7:30 pm.
There are opportunities provided for new immigrants to adjust to Canadian life,
help improve their communication skills and other educational needs.
+
A
contemporary worship service
organized by
their worship team and the clergy of the
Tri-Church will be held monthly.
The next one is Sunday, August 26, 2018
1:00 pm to 2:00 pm in the large Worship Area
Topic: "Peer Pressure"
Please invite your friends and neighbour.

Tri-Church Garage Sale - September 22, 2018
We appreciate donations of good, clean, gently used items
(clothing, housewares, toys, jewelry, electronics, decorations, books, etc.)
Everything must be clean & in good repair.
Please do not donate anything you would not give to a friend.
We will need help with set-up on Friday
as well as during the sale and the clean-up on Saturday.
Watch for sign-up sheets on the bulletin boards in worship areas.


Parish Nursing Announcement


Promoting Good Digestive Health

The Colorectal Cancer Association of Canada informs us
that more than 20 million Canadians experience some form of digestive problem.
Colorectal cancer is the second leading cause of cancer death in the country
and this type of cancer is preventable.
If it is detected early, 90 per cent of diagnosed cases can be cured.

Let's look at some of the Prevention Basics.

Eat a healthy balanced diet which includes a variety of fruits and vegetable
and whole grains and lean protein and milk products.

Drink a lot of water six to eight glasses per day is a good starting point.

Eat fibre rich foods which includes: whole grains, vegetables and fruits, dried fruits and seeds.

Use moderation when consuming caffeinated beverages, and alcoholic drinks.

If you are over fifty years of age, have a family history of colorectal cancer or other genetic risk factors, get screened regularly.

For more information and more details look at the website: colorectalcancercanada.com



SWIFT Exercise Class Research Project
- Help Needed -
Parish Nursing partners with
the Canadian Memorial Chiropractic College
to provide exercise classes 3 days/week.
Together we are doing a research project
to determine how these classes help
to improve seniors' strength, mobility, balance & quality of life.
SWIFT class members will be involved,
but we also need members of the congregations who do NOT
participate in these classes to provide a comparison group.
We are looking for approximately 50 volunteers,
age 60 or older, who will be asked
to complete & return 2 questionnaires to Margaret Black.
Privacy will be respected.
If you can help us out, please sign up on the volunteer sheet
on your bulletin board or email her at:
blackmarg <at> gmail.com
More specific information will be available later.
THANK YOU!


Iona Announcement

Iona's Summer Worship Scehdule
Our Summer Worship Services are
at 10:30 am.
August 19 - at St. Cyprian's
August 26 - at Iona
St Cyprian's Announcements
Summer Worship Schedule
Beginning July 1, 2018 our Sunday services will be at
9:00 am & 10:30 am
, every Sunday.
St Cyprian's Day
will be celebrated on September 16, 2018 this year,
with Bishop Kevin Robertson presiding.
Marriage Canon Dialogue
You are invited to have conversations
with those of differing views
on the proposed changes to the marriage canon.
www.toronto.anglican.ca/canonxxi
Regular Events
SWIFT Exercise Classes
Tuesday, Wednesday and Friday at 11:00 am - for an hour.


Tri-Churches Seniors Group

every Wednesday at 12:15 pm



We

have lunch together (please bring your own) and play games and cards.
Tea, coffee and desserts are provided. The cost is 50 cents each week.


Recent Events



Canadian Memorial Chiropractic College Award
April 5, 2018

Margaret Black, Parish Nurse, attended an awards ceremony at the Canadian Memorial Chiropractic College which provides Clinic Interns (4th year students) to lead the SWIFT Seniors' Exercise Classes, The SWIFT Program (3 classes/week) won an award for being a Community Partner with CMCC, providing experience to their students. Margaret also won an award for being the organizer of the program. Congratulations to all our leaders and class members for making this happen and thanks to CMCC for the recognition.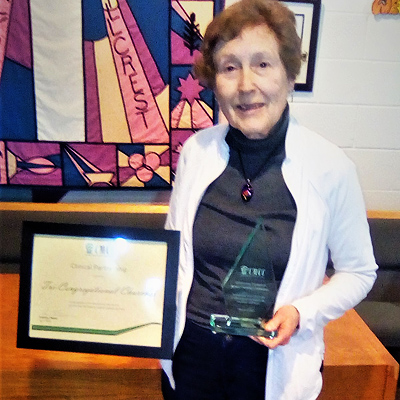 Choral Concert "Comfort and Joy"
with choral music from Iona, St. Cyprian's, Trinity Mandarin and St. Christopher's.
Sunday, December 3, 2017

Use the links below to see some of the choral items:

https://youtu.be/ZK33j0m5qOc

https://youtu.be/V4SUNA11EzQ

https://youtu.be/0erHgj_d6fs

https://youtu.be/0WfUEo07YN8

https://youtu.be/kMl73Pjy5Gk

Canada 150 Tri-Church Fair
June 3, 2017
pictures by Phil Sharp



New Parish Nurse Joins the
Tri-Congregational Parish Nursing Ministry

March 2016

Margaret Black (right), who began the Tri-Congregational
Parish Nursing Ministry in 2001, welcomes our new associate,
Maureen McNeish (left), RN, BScN. Maureen is very well
qualified for this position as she has completed all three levels
of the InterChurch Health Ministries Parish Nursing Program.
In addition she has a post-graduate certificate in Mental Health Nursing
from the Canadian Nurses' Association. Maureen has 3 years
experience as a parish nurse at both an Anglican and a
Presbyterian church in Toronto, so clearly God has prepared
her well for the Tri-Congregational Churches! Marg and
Maureen, who have complementary areas of expertise,
will be sharing the Parish Nursing pastoral ministry to
provide the best care for all clients.

As well as volunteering with the Tri-Congregational Parish
Nursing Ministry, Maureen works full time as a home care
nurse contracted through the Community Care Access Centre.
She is also married with two teenage children. She and her
family have recently moved into our neighbourhood from
downtown Toronto.

We are blessed indeed to have her on our team.
Please welcome her in true Tri-Congregational Churches fashion.
Induction and ordination of Rev. Robert Reid,
new minister of the Iona Presbyterian congregation,
on Sunday, August 30, 2015
2015 Iona Strawberry Social
Saturday, June 13, 2015
2015 Seniors' Luncheon
Wednesday, June 10, 2015


2015 Iona Irish Night
Tuesday, March 17, 2015




Christmas Choral Concert
Sunday, December 7, 2014





The 44 voice choir made up from the four churches: Iona Presbyterian,
Trinity Mandarin Presbyterian, St. Cyprian's Anglican, And St. Christophers
Anglican church.




Some members from the skit "Sherlock Holmes and the true meaning
of Christmas".




The attending congregation.





The Trinity Mandarin and St. Christophers Anglican youth group.


Rev. Jim Biggs Recently Retired

This picture was taken on June 17, 2014 at the final session meeting and
dinner with Rev. Jim Biggs. Included with the session members were
Linda Biggs, as well as Bev McCutcheon, J.P.Smit, from the Presbyterian
national office, who worked with the session prior to the appointment of
Rev. Emily Bisset, our newly appointed interim moderator (bottom right).





2014 Tri-church Seniors Group Luncheon
Thursday, June 25, 2014






Village Voices at Iona
Wednesday, May 14, 2014

pictures submitted by Bob Williams


Iona's Irish Night
Tuesday, March 18, 2014
with Robert Graham at the piano

pictures submitted by Robert Williams