St Cyprian's Announcements


Advisory Board meeting
this Wednesday, November 21, 2018 at 7:00 pm

The Canadian Church Calendars for 2019
are on sale today from Lyn Lowry.


Iona Announcements

Iona's Christmas party
this year is on Friday, December 7, 2018.
We will gather at 6 pm and dinner will be at 6:30 pm.
We will also be inviting Trinity to join with us as usual.
This year we are doing potluck.
There is a sign-up sheet on the bulletin board for items for the dinner.
Plan for approximately 6 - 8 people.
We also need to know the # of people in your party that will be
attending, as well as any children 12 or under (boy or girl, and age).
We will also have a visit from Santa, our usual games and sing-along.

THE DON VALLEY REFUGEE RESETTLERS
Rita Hiorth from Iona is taking orders for Amaryllis Bulbs ($15)
and Canadian Honey, small ($10) large ($20)

Thanks to everyone who supported the dittybag program and helped assemble
them this past Wednesday. We made over a 100 bags.

"Thank you" for everyone who came out to support the making of chicken pot pies.
This is a great fellowship time. A financial update will follow.


Tri-Church Announcements

This year, the Tri-Church Choral Concert will be on
Sunday Evening, December 2, 2018 at 7:30 pm.
Please set this date aside for a wonderful evening
of Christmas Music from the 4 Choirs.


Christmas Hampers
The "Angel Tree" is up, and gifts for the children
should be returned by Sunday, December 16th.
The Christmas Hampers are going to be delivered
on Saturday, December 22nd.
You are invited to help with packing and
the distribution of the gifts on that day.
Special Events
Regular Events
SWIFT Exercise Classes
Tuesday, Wednesday and Friday at 11:00 am - for an hour.


Tri-Churches Seniors Group

every Wednesday at 12:15 pm



We

have lunch together (please bring your own) and play games and cards.
Tea, coffee and desserts are provided. The cost is 50 cents each week.


Recent Events



Canadian Memorial Chiropractic College Award
April 5, 2018

Margaret Black, Parish Nurse, attended an awards ceremony at the Canadian Memorial Chiropractic College which provides Clinic Interns (4th year students) to lead the SWIFT Seniors' Exercise Classes, The SWIFT Program (3 classes/week) won an award for being a Community Partner with CMCC, providing experience to their students. Margaret also won an award for being the organizer of the program. Congratulations to all our leaders and class members for making this happen and thanks to CMCC for the recognition.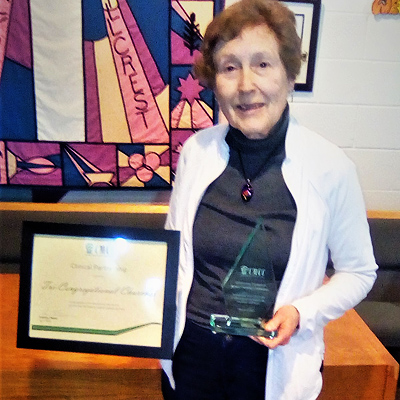 Choral Concert "Comfort and Joy"
with choral music from Iona, St. Cyprian's, Trinity Mandarin and St. Christopher's.
Sunday, December 3, 2017

Use the links below to see some of the choral items:

https://youtu.be/ZK33j0m5qOc

https://youtu.be/V4SUNA11EzQ

https://youtu.be/0erHgj_d6fs

https://youtu.be/0WfUEo07YN8

https://youtu.be/kMl73Pjy5Gk

Canada 150 Tri-Church Fair
June 3, 2017
pictures by Phil Sharp



New Parish Nurse Joins the
Tri-Congregational Parish Nursing Ministry

March 2016

Margaret Black (right), who began the Tri-Congregational
Parish Nursing Ministry in 2001, welcomes our new associate,
Maureen McNeish (left), RN, BScN. Maureen is very well
qualified for this position as she has completed all three levels
of the InterChurch Health Ministries Parish Nursing Program.
In addition she has a post-graduate certificate in Mental Health Nursing
from the Canadian Nurses' Association. Maureen has 3 years
experience as a parish nurse at both an Anglican and a
Presbyterian church in Toronto, so clearly God has prepared
her well for the Tri-Congregational Churches! Marg and
Maureen, who have complementary areas of expertise,
will be sharing the Parish Nursing pastoral ministry to
provide the best care for all clients.

As well as volunteering with the Tri-Congregational Parish
Nursing Ministry, Maureen works full time as a home care
nurse contracted through the Community Care Access Centre.
She is also married with two teenage children. She and her
family have recently moved into our neighbourhood from
downtown Toronto.

We are blessed indeed to have her on our team.
Please welcome her in true Tri-Congregational Churches fashion.
Induction and ordination of Rev. Robert Reid,
new minister of the Iona Presbyterian congregation,
on Sunday, August 30, 2015
2015 Iona Strawberry Social
Saturday, June 13, 2015
2015 Seniors' Luncheon
Wednesday, June 10, 2015


2015 Iona Irish Night
Tuesday, March 17, 2015




Christmas Choral Concert
Sunday, December 7, 2014





The 44 voice choir made up from the four churches: Iona Presbyterian,
Trinity Mandarin Presbyterian, St. Cyprian's Anglican, And St. Christophers
Anglican church.




Some members from the skit "Sherlock Holmes and the true meaning
of Christmas".




The attending congregation.





The Trinity Mandarin and St. Christophers Anglican youth group.


Rev. Jim Biggs Recently Retired

This picture was taken on June 17, 2014 at the final session meeting and
dinner with Rev. Jim Biggs. Included with the session members were
Linda Biggs, as well as Bev McCutcheon, J.P.Smit, from the Presbyterian
national office, who worked with the session prior to the appointment of
Rev. Emily Bisset, our newly appointed interim moderator (bottom right).





2014 Tri-church Seniors Group Luncheon
Thursday, June 25, 2014






Village Voices at Iona
Wednesday, May 14, 2014

pictures submitted by Bob Williams


Iona's Irish Night
Tuesday, March 18, 2014
with Robert Graham at the piano

pictures submitted by Robert Williams