A
"Thank You"
message from
Northwood Montessori Daycare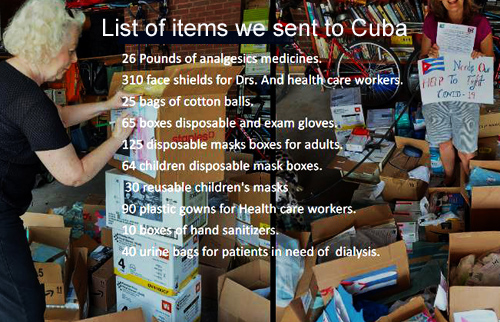 In July, Northwood Montessori Daycare, who rents space in the Tri-Church building received an appeal from Mademoiselle Louisa asking if they could help with supplies for Cuba urgently needed due to the COVID virus.
Through the generosity of Northwood Daycare, people in the surrounding community, and the people within the Tri-Church building, including the Iona, St Cyprian, and St. Christopher congregations, Northwood was able to send over 300 face shields, 200 boxes of masks for both adults and children, hand sanitizer, boxes of gloves and much more. Medicines and needles were also included in the shipment. Also, donations of over $2,000 will be used to make more purchases.
Our Northwood staff, families and friends have 'stepped up to the plate' and hit a grand slam. We are thanking you so much.
_______________________________________________


Margaret Black
Tri-Church Parish Nurse
Your latest Parish Nursing Health Tip
posted for the Week of August 22, 2021
An Important Life Lesson
At the end of our worship service on Sunday, August 15, Rev. Victor Li asked if there were any announcements for Iona. I responded with an update about Iona's Search Committee. Then I went on to say that my prayers are with both Iona's and St. Cyprian's Search Committees, as we seek to "replace two irreplaceable men". Victor thanked me but continued, "Everyone can be replaced. No one is indispensable". My answer to that is "Yes and no".
Several years ago a very wise person said to me that when a beloved pet dies, we grieve the loss of one of our family members, but after a period of time, many people get another pet to keep them company, cheer them up, just be with them. Does that mean that you stop loving the previous pet? No! It just means that we make space in our hearts for the new pet, but the new one doesn't take the place of the previous one. And so our hearts grow larger to make room for more love.
The lesson I take from this is that when someone leaves a position, we can find a new individual to fill that position, but that person doesn't replace the previous person in our hearts. We just grow bigger hearts to make space for the new person. For us, Victor and Robert will always remain as beloved spiritual mentors and good friends.
This is good news for our Search Committees and congregations. We need to think about God's mission for us in this community and the wider world, as we pray for others each day. Both congregations will grieve the loss of these two men, but we need to listen to God, as he seeks to lead us into the next chapter of our lives in His Kingdom. We must not be tempted to give up and think that there is no point in going forward. We need to believe that God will eventually bring the right person to lead each of our congregations so that we can continue and hopefully grow our ministry. The world around us is full of pain, grief, loss, anger, hopelessness, poverty, violence and injustice. God calls us to fight the things that are destroying our society and help to bring others to Him and gradually help to build His Kingdom here on earth. Even if it's one person at a time, one day at a time, everything helps.
Together we have a strong, loving community at Tri-Church, which can enrich the lives of so many others. We can give them hope, a sense of belonging, support, comfort, and love. For those who are alone and afraid, these are life-changing gifts. This is God's will for us and a lasting testament to Robert's and Victor's ministry with us.
Blessings,
Margaret Black
Tri-Church Parish Nurse
_______________________________________________


_______________________________________________

Honouring the Children:
Reconciliation and Residential Schools Fund
In response to the devastating confirmation of unmarked graves on the grounds of former residential schools, and in honour of the children who were lost and all people living with the consequences of that legacy, The Presbyterian Church in Canada has established the:


Honouring the Children: Reconciliation and Residential Schools Fund.


This fund will support initiatives associated with searches for unmarked burial sites in communities where schools were operated by The Presbyterian Church in Canada.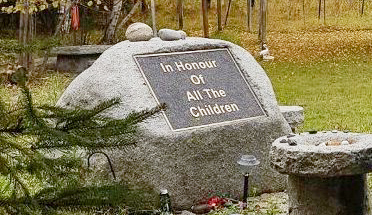 Erected in 2013, this memorial is honouring all the children
who attended the Cecilia Jeffrey Residential School
at Shoal Lake, ON. Read more here ...
Our work begins with listening. We continue to live out the covenants made in the
1994 Confession,
being directed by the principles articulated by the Truth and Reconciliation Commission of Canada and seeking the guidance of Indigenous people and affected communities. Responses may include searching for graves, responding to trauma and supporting healing initiatives. All work will complement efforts to address systemic racism against Indigenous people, both in the church and Canadian society, and the ongoing healing and reconciliation work being done in the ministries of the National Indigenous Ministry Council.
To begin, The Presbyterian Church in Canada has committed $1 million from national funds, and invites congregations and individuals to make additional contributions to this important work.
At its recent meeting on June 13, the Session of the Iona Presbyterian Congregation voted to make a donation to the
Honouring the Children Fund
. We are encouraging members of the congregation to also make a donation, directly, by following this link:
https://presbyterian.ca/donate/donate-honouring-children-fund/
_______________________________________________