Members of the Iona Presbyterian congregation, as well as the members of the St. Cyprian's Anglican Church are fortunate to have a Parish Nursing ministry right at their doorstep. Staffed by a registered nurse, everyone should be asured that tender loving care is just a phone call away. Whatever your need or complaint, they are dedicated to be of service. Often, all that is needed is a compassionate ear or a contact number to connect with a service or source of help.
Health Information
Click here to browse through the many pieces of information, written by Margaret Black, RN EdD, focused on the promotion of your physical and spiritual health.

Seniors' Exercise Class
SWIFT Exercise Class
Tuesday, Wednesday and Friday at 11am - noon.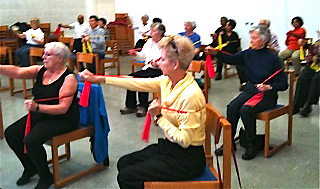 After a year of searching for leadership for a Seniors' Exercise Class, the Parish Nursing Ministry is thrilled to announce that the class started on Wed. Jan. 11, 2012! The Canadian Memorial Chiropractic College has willingly undertaken leadership of the group and developed an excellent program suitable for participants with varied levels of mobility and other restrictions. Participants can do exercises either seated or standing to the level of their tolerance. The weekly class is open to members of the four congregations (Iona Presbyterian, St. Christopher's Anglican, St. Cyprian's Anglican, and Trinity Mandarin) who worship in the building and also to the community. We currently have close to 30 members in the class. Not only has this provided a valuable health promotion activity for the churches and community, but it also provides Clinic Interns (pre-graduate students) at CMCC with valuable experience working with the participants. Classes are planned and run by the interns and supervised by registered Chiropractors who are teaching faculty at the College. The program is definitely a win-win situation for all involved. Margaret Black, Parish Nurse, would like to express the participants' gratitude to Dr. Jarrod Goldin, DC, and his students, and to the Canadian Memorial Chiropractic College for helping to make this dream a reality.

Parish Nursing Professional Staff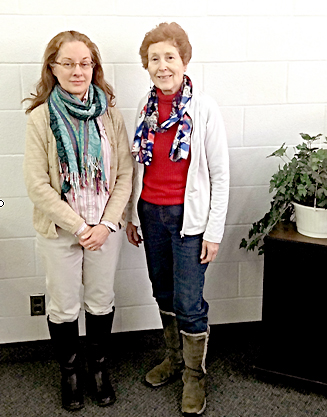 Margaret Black (right), who began the Tri-Congregational
Parish Nursing Ministry in 2001, welcomes our new associate,
Maureen McNeish (left), RN, BScN. Maureen is very well
qualified for this position as she has completed all three levels
of the InterChurch Health Ministries Parish Nursing Program.
In addition she has a post-graduate certificate in Mental Health Nursing
from the Canadian Nursesí Association. Maureen has 3 years
experience as a parish nurse at both an Anglican and a
Presbyterian church in Toronto, so clearly God has prepared
her well for the Tri-Congregational Churches! Marg and
Maureen, who have complementary areas of expertise,
will be sharing the Parish Nursing pastoral ministry to
provide the best care for all clients.
As well as volunteering with the Tri-Congregational Parish
Nursing Ministry, Maureen works full time as a home care
nurse contracted through the Community Care Access Centre.
She is also married with two teenage children. She and her
family have recently moved into our neighbourhood from
downtown Toronto.
We are blessed indeed to have her on our team.
Please welcome her in true Tri-Congregational Churches fashion.
Consulation Hours

Regular Parish Nurisng office hours are:

- Tuesday mornings from 9:30am to 12:30pm
- Wednesday afternoons from 1:00pm to 4:00pm

Contact Info

The phone number is (416) 494-5364.

Link to our website